Main content starts here, tab to start navigating
We are accepting reservations online through Resy. 
To ensure the utmost safety of our team and guests, we have implemented the following measures:
•         Face coverings are required to be worn at all times, when dining with us, except when food and/or drink have arrived at the table. While we encourage guests to bring their own, we have disposable masks available.
•         We have sanitizer available for all guests.
•         As our space is limited to ensure safe social distancing, seating will be blocked in 90-minute increments. We kindly ask that all guests arrive on time for the reservation so we can seat parties at once and prevent backup while also allowing for adequate time to sanitize between parties.
•         Please notify us in advance of any changes to an existing reservation. No-shows or cancellations of less than 5 hours prior to the reservation time may be subject to a fee of $10 per person.
•         Our menus have moved to a digital, QR code format that allow guests to easily scan and view from a mobile device.
•         We strongly encourage payment by credit card, debit card or gift card.
•         Restrooms are  held to strict social distancing measures. 
•         Floor markers have been placed to indicate safe social distances.
According to the Chicago Bridge Phase 5, we are implementing these additional measures:
•  Social distancing of six feet between parties is maintained at all times.
•   We can operate within our regular liquor license hours in Chicago City.
In accordance with the vaccine mandate announced by the City of Chicago, all guests of Tzuco over the age of 5 years will be required to show proof of vaccination against COVID-19, along with a valid photo ID, effective January 3, 2022.
Original vaccination cards, a photocopy of the card, a digital record/app, or a printed record from the vaccine provider are all acceptable forms of proof.
If you are picking up food to enjoy at home, proof of vaccination will not be required as long as your visit is less than 10 minutes.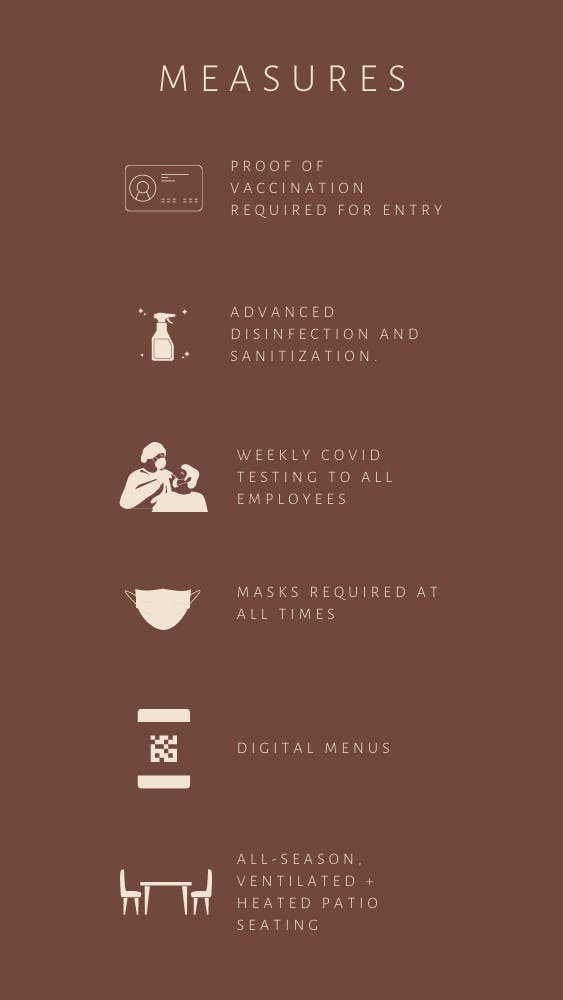 Our team is committed to going above and beyond to ensure a safe experience for all. In addition to deep sanitation of all areas of our restaurant and screening our team members every day, we are wearing masks at all times and washing our hands frequently, with timers set throughout each shift. We have appointed extra staff devoted solely to sanitation and have established a compliance ambassador who will continually monitor and reinforce our policies with regard to health and safety.
All of our team members will be required to be tested weekly with a negative result prior to staffing their shifts.
Muchas gracias in advance for your continued support, as well as your cooperation and patience as we navigate these times together.
We look forward to welcoming you to Tzuco soon!
Chef Carlos Gaytán + Tzuco Team